24th Convention
Natural Products Society of the Philippines
In cooperation with the Food and Nutrition Research Institute (FNRI)
"Functional Foods for Health and Wellness"
5-6 December 2019
FNRI Auditorium FNRI
DOST Compound
Gen. Santos Ave., Bicutan, Taguig City, Philippines
REGISTRATION FEES
| | | |
| --- | --- | --- |
|   | Pre-registration (Until 31 October 2019) | On-site |
| Students | PhP 3,500.00 | PhP 4,500.00 |
| Members | PhP 4,500.00 | PhP 5,500.00 |
| Non-members | PhP 5,000.00 | PhP 6,500.00 |
| Foreign Participants | US$ 300.00 | US$ 400.00 |
Registration includes reception dinner, snacks, lunch, and convention kit. On-site registrants are not guaranteed of the convention kits.
Mode of payments: (cash or manager's check) / Bank of Philippine Islands account 3093–5539–41 (Sampaloc, Manila Branch)
Pre-registration may be done online (www.natprod.org/pre-registration-form) or through the Secretariat: Dr. Evangeline C. Amor, Institute of Chemistry, University of the Philippines-Diliman, Quezon City. Send copy of completed registration form and the Bank of the Philippine Island deposit slip by FAX (920 5427 / 740 9731) or email scanned copy to natprodphils@yahoo.com.Present original copy at the Registration Desk at the convention to claim the Official Receipt. Only those with submitted scanned bank deposit slip will be considered pre-registered.
DATES TO REMEMBER
Deadline date for abstract submission: 15 September 2019 30 September 2019 (EXTENDED)
Date of release acceptance letters: 01 October 2019 15 October 2019
Pre-registration date deadline: 31 October 2019
For further inquiries, please contact:
THE 24th NPSP CONVENTION SECRETARIAT
Dr. Evangeline C. Amor
Institute of Chemistry University of the Philippines-Diliman
T: +63 (02) 920 5427
TL: +63 (02) 981 8500 local 3652
E-mail: natprodphils@yahoo.com
PROGRAMME
DECEMBER 5, 2019
7:30 am
Registration
 
9:00
Doxology
National Anthem
HapagAwit Singers, FNRI
 
Welcome Remarks
Dr. Maribel G. Nonato
President, NPSP
 
Opening Message
Prof. Fortunato dela Peña
Secretary, DOST
9:45
Keynote Talk
Dr. Mario Capanzana, Director, FNRI
"Functional Foods, Are we responding to the research gaps?"
10:30
Opening of Exhibits and Posters
Group Photo
AM Break and Poster Viewing
 
11:30
Plenary 1
Dr. Cecilia Acuin, Senior Scientist, IRRI
"Rice as a functional food: challenges beyond product development"
12:00 pm
Lunch
 
1:00
Poster Viewing
(Presentor must be beside their poster for judging)
1:45                       
Sponsor's presentation 1
Dai Qing Qing, BÜCHI (Dakila Trading)
"Take a break! Speed up your Natural Product Compound Isolation with BUCHI Solutions"
2:00
Plenary 2
Dr. Trinidad P. Trinidad, FNRI and UST
"Dietary Fiber from Coconut Flour as Functional Food / Ingredient: An Update"
2:30
Plenary 3
Dr. Fabian M. Dayrit, ADMU
"How the West was Wrong: Errors in the Saturated Fat Paradigm and Its Implications for Coconut Oil"
3:00
PM Break
 
3:30
Contributed Oral Paper 1
Shalice R. Susana, MSI, UPD
"Screening of anti-inflammatory compounds from marine sponge"
3:45
Contributed Oral Paper 2
Ana Marie G. Artiga, Aklan State University
"Properties of Kamunsil (Pithecellobium DulceBenth.) Seed and Seed Oil Following Extraction with Soxhlet and Ultrasonic Methods"
4:00
Contributed Oral Paper 3
Arsenia B. Sapin, BIOTECH, UPLB
"Characterization of natural phenolics from mango leaves of different varieties for potential use as skin care bioactive"
4:15
Contributed Oral Paper 4
Krystle Gwyn A. Quimada, PSHS Central Mindanao
"Pectin Extraction and Characterization from Three Variants of Mango Peels WithCalamansi as the Acidifier"
4:30
Contributed Oral Paper 5
Lolita G. Lagurin, ADMU
"13C NMR Method for Profiling of Medicinal Plants"
4:45
Contributed Oral Paper 6
Rezzaira Marie N. Astorga, Inst Chem, UP Diliman
"Angiotensin-Converting Enzyme (ACE) Inhibitors from a Moraceae plant"
5:00
Poster Viewing
(Presentor must be beside their poster for judging)
6:00
Banquet Dinner
 
TBA, Moderator
DECEMBER 6, 2019
8:00 am
Registration
 
9:00
Industry lecture
Philip Cruz, Herbanext Laboratories, Inc.
"Challenges in Scaling-up and Commercialization of Functional Foods"
9:30
AC Santos Lecture
Dr. Elizabeth H. Arenas, University of Santo Tomas
"The Aspects and Prospects of Pili (Canariumovatum, Engl.) Fruit Pomace as a Functional Food Ingredient"
10:00
AM Break
 
10:30
Sponsor's presentation 2
Dr. Tan Shin Jowl, SCIEX Field Application and Market Development Specialist (Dynalab)
"SCIEX X500R QTOF System for Natural Product Research & Metabolomics"
10:50
Sponsor's presentation 3
Mr. Lemuel B. Ferrer, XPRT Ventures Inc.
"Natural Products Purification by TLC Flash Chromatography"
11:10
Contributed Oral Paper 7
Romeo C. Ongpoy, Jr., Emilio Aguinaldo College
"GC-MS Analysis of the Bioactive Components in the Ethyl Acetate Fractions from the Leaves of Alocasiasanderiana Bull., An Endemic Philippine Plant"
11:25
Contributed Oral Paper 8
Jadel A. Dungog, PSHS, Central Mindanao
"Agar-based Biodegradable Water Container: An Innovation"
11:40
Contributed Oral Paper 9
Mark Pretzel P. Zumaraga, FNRI
"Tumor-suppressing effects of Moringa oleifera leaves powder on colorectal polyps in azoxymethane-induced Sprague Dawley rats"
11:55
Contributed Oral Paper 10
Florena B. Samiano, FPRDI Los Baños
"Potentials of Harvesting and Utilizing Philippine Cinnamons"
12:10 pm
Lunch
 
1:15
FNRI Laboratory Tour
 
2:15
Business Meeting
Oathtaking of new members
Announcement of Poster awards
 
3:00
Closing remarks               
Dr. MafelYsrael, Co-chair, Organizing Committee
 
Distribution of Packed Snacks & Certificate
 
TBA, Moderator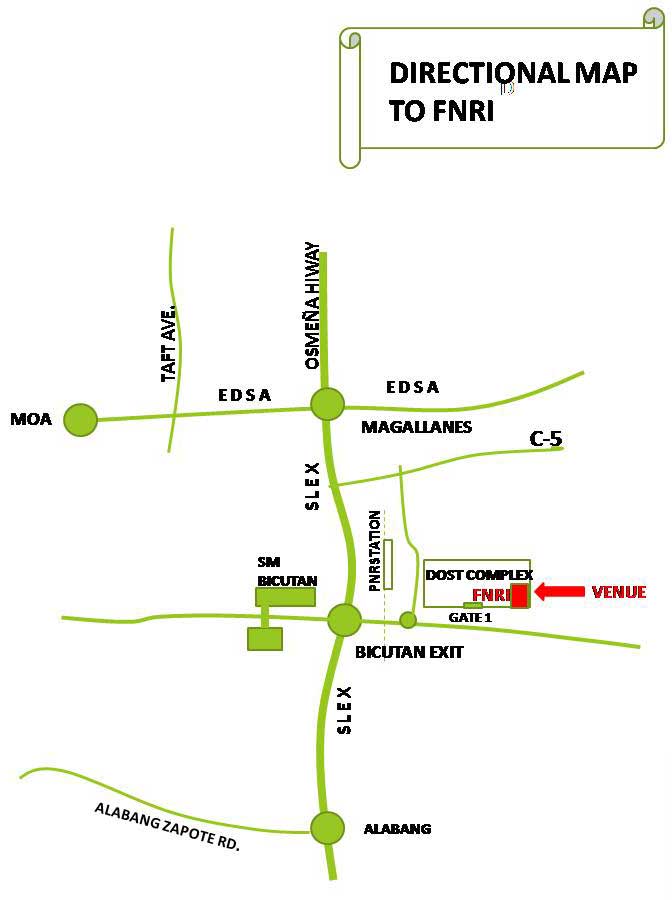 DOST-FNRI DORMITORY
3rd Floor, FNRI Building, DOST Compound
Bicutan, Taguig City
Price: 350/head
Bed/Room: Double Deck, Airconditioned
Room Capacity: 5-8 pax,
Payment includes:
Beddings (Fitted sheet, flat sheet, pillow case, towel)
Drinking Water
Toiletries not included
Common Comfort/Wash Rooms for Male and Female per wing
Free use of TV, microwave, and dining area (common area)
Contact Details:
Ms. Filipiniana B. Bragas – 8837 8113 loc 321/ 0933 810 0464
Email: 201810fsanchez@gmail.com
Check-in:Office hours
Check-out: 12nn
Payment thru cash
Male/Female rooms are separated